Consul General TONG Xiaoling Meets MCBA's President Anthony Remedios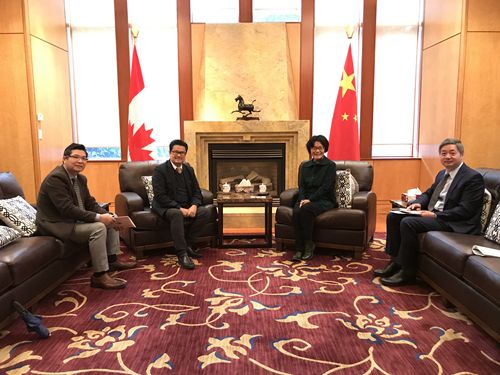 On November 12, 2019, Consul General TONG Xiaoling met with Mr. Anthony Remedios, President of Macau Canada Business Association (MCBA).
Mr. Remedios briefed on the work of MCBA and said that, since Macau's return to China, the Chinese Central Government has treated Macau well by pursuing the "One Country Two Systems" policy, which has promoted prosperity in Macau and also created good opportunities for MCBA's members including his own law firm to conduct business cooperation between Canada, Macau and mainland China.
CG TONG applauded MCBA's contributions and encouraged MCBA to put continuous efforts in strengthening economic and trade ties between mainland China, Macau and Canada.
Consuls YU Shanjun, ZU Lirong and MCBA's Vice President James Kuok attended the meeting.