Canada to admit nearly 1 million immigrants over the next 3 years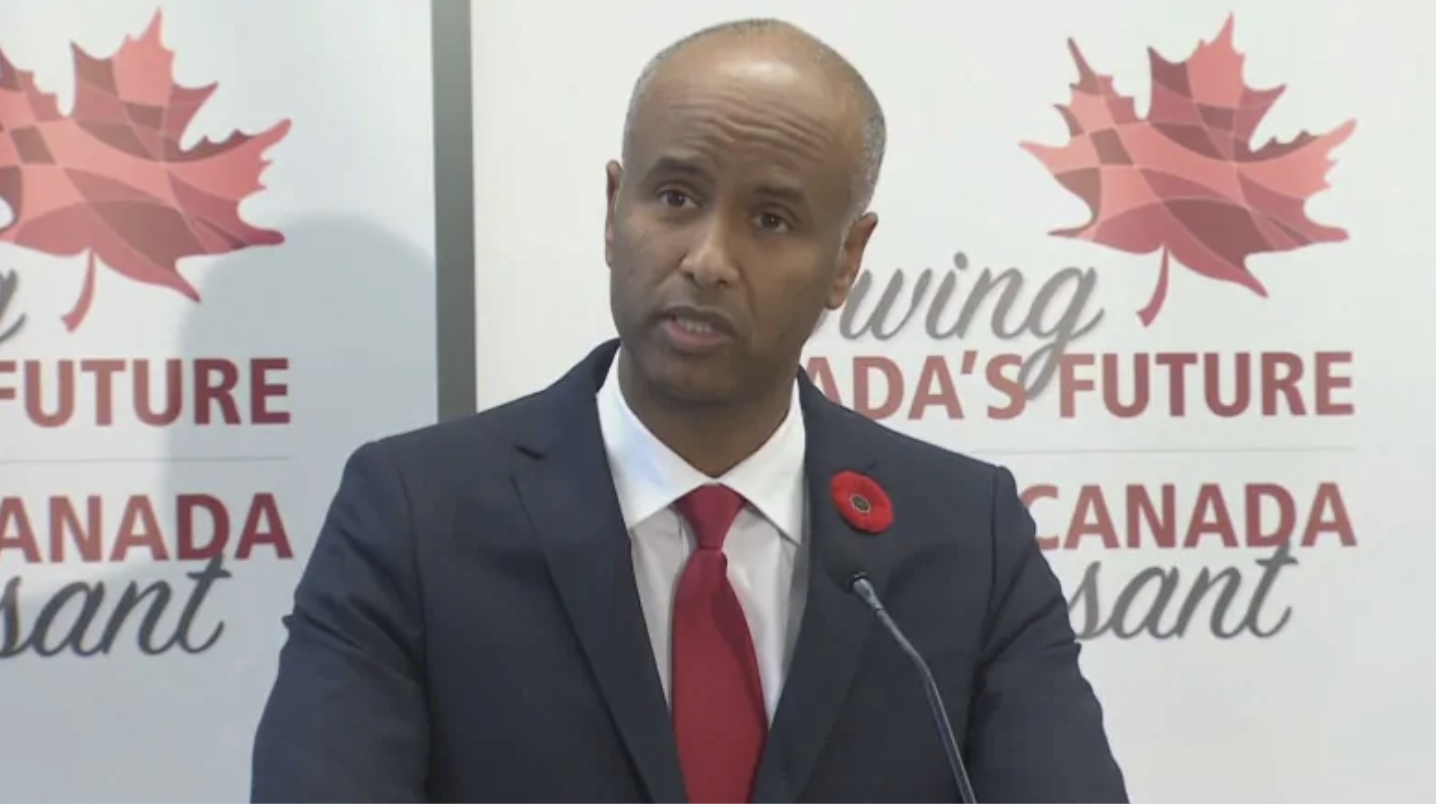 Canada will welcome nearly one million immigrants over the next three years, according to the multi-year strategy tabled by the Liberal government today in what it calls "the most ambitious immigration levels in recent history."
The number of economic migrants, family reunifications and refugees will climb to 310,000 in 2018, up from 300,000 this year. That number will rise to 330,000 in 2019 then 340,000 in 2020.
The targets for economic migrants, refugees and family members was tabled in the House of Commons Wednesday afternoon.
Hussen said the new targets will bring Canada's immigration to nearly one per cent of the population by 2020, which will help offset an aging demographic. He called it a historic and responsible plan and "the most ambitious" in recent history.
"Our government believes that newcomers play a vital role in our society," Hussen said. "Five million Canadians are set to retire by 2035 and we have fewer people working to support seniors and retirees."
In 1971, there were 6.6 people of working age for each senior, Hussen said, but by 2012 that ratio had gone to 4.2 to 1 and projections show it will be at 2 to 1 by 2036, when almost 100 percent of population growth will be a result of immigration. And it stands at about 75 percent today.
Hussen said immigration drives innovation and strengthens the economy, rejecting some claims that newcomers drain Canada's resources and become a burden on society.
He said the government is also working to reduce backlogs and speed up the processing of applications in order to reunite families and speed up citizenship applications.
The federal government's own Advisory Council on Economic Growth had recommended upping levels to reach 450,000 newcomers annually by 2021. Hussen said the government is taking a more gradual approach to ensure successful integration.
"At arriving at these numbers we listened very carefully to all stakeholders who told us they want to see an increase but they also want to make sure that each and every newcomer that we bring to Canada — bringing a newcomer to Canada is half of the job. We have to make sure that people are able to be given the tools that they need to succeed once they get here," he said.
Focus on integration: Rempel
Conservative immigration critic Michelle Rempel was critical of the plan, suggesting the government needs to do a better job of integrating newcomers.
"It is not enough for this government to table the number of people that they are bringing to this country. Frankly the Liberals need to stop using numbers of refugees, amount of money spent, feel-good tweets and photo ops for metrics of success in Canada's immigration system."
She said the Liberals need to bring Canada's immigration system "back to order" by closing the loophole in the Safe Third Country Agreement that has seen migrants cross into Canada at unofficial border crossings only to claim refugee status.
She also said the immigration system should focus on helping immigrants integrate through language efficiency and through mental health support plans for people who are victims of trauma.
Dory Jade, the CEO of the Canadian Association of Professional Immigration Consultants, welcomed the news although he suggested the numbers should be higher.
"Canada will greatly prosper and grow once the 350,000 threshold has been crossed," he said. "Nevertheless, we are witnessing a very positive trend."
The Canadian Council of Refugees also welcomed the news, but wanted more, saying the share for refugees was only increased slightly from 13 per cent this year to 14 per cent in each of the next three years.
Calls for longer-range forecast
In past, there has been a one-year figure for how many immigrants will be permitted into the country, but provinces and stakeholders have called for longer-range forecasts.
A statement from Ontario's Immigration Minister Laura Albanese, before the announcement, said the province supports the introduction of multi-year levels plans "to provide more predictability to the immigration system and inform program planning."
"Significant variation in year-to-year immigration levels can dramatically impact the requirement for provincial year-to-year resources. A longer term outlook would help in planning for appropriate service levels and use of resources."
The statement said Ontario supports growth in immigration levels, particularly in economic immigration categories to support the growing economy.
Diversity drives innovation
During the government's consultation period, the Canadian Immigrant Settlement Sector Alliance presented "Vision 2020," what it called a "bold" three-year plan to address growing demographic shifts underway in the country, calling for increased numbers in the economic, family and refugee categories.
It recommended a target of 350,000 people in 2018, which climbs to 400,000 in 2019 and 450,000 by 2020.
Chris Friesen, the organization's director of settlement services, said it's time for a white paper or royal commission on immigration to develop a comprehensive approach to future immigration.
"Nothing is going to impact this country [more] besides increased automation and technology than immigration will and this impact will grow in response to [the] declining birth rate, aging population and accelerated retirements," he told CBC News.
Canada welcomes nearly 1 million immigrants over the next 3 years. Remedios & Company provides Immigration services to people from different backgrounds!